J.B. Hunt at 60: Thinking Big (Part 1)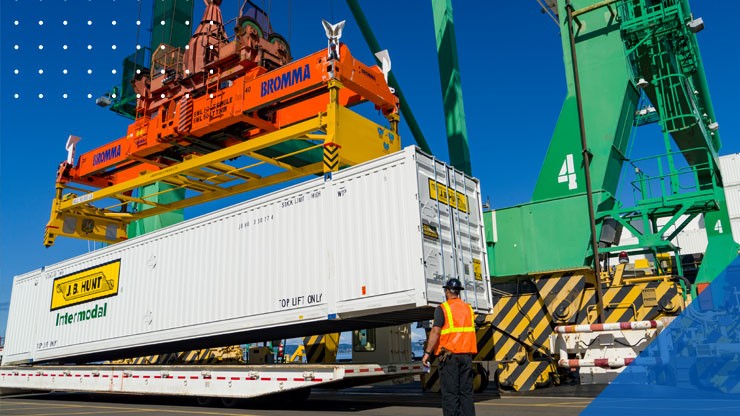 In this multi-part series, we dive into the key components driving our mission to create the most efficient transportation network in North America. Those include building a talented workforce unlike any other, offering stellar customer service and the topic of this feature —thinking big and taking risks.     
Spoiler alert - it's been 60 years in the making.   
Since the beginning, J.B. Hunt has been built on innovation. Taking calculated risks and daring to go where others haven't has always been part of our DNA.   
Johnnie Bryan Hunt and his wife, Johnelle Hunt, founded the company in 1961 using a new way to recycle rice hulls for the poultry industry instead of wasting them — a ground-breaking innovation that Mr. Hunt had devised himself while working as a truck driver.    
The couple had left behind much of what they had known in Little Rock to make a go of it in east Arkansas, with Mr. Hunt keeping the packing machines running and personally delivering the hulls while Mrs. Hunt managed the books.    
A few years later, the encouragement of a customer in Northwest Arkansas prompted them to start a trucking business with the purchase of five trucks and seven trailers.     
"The first 10 years of the trucking company were really a struggle," Mrs. Hunt recalled.1 "Everything we touched didn't turn to gold, and everything we did didn't work, but we always tried to make it work… We knew if it all failed, we could go back to where we were and be happy."   
Mr. Hunt, however, kept pushing the envelope, thinking of ways to transform the trucking industry by developing new services and expanding into new sectors. "Thinking big" wasn't optional, as Mr. Hunt made clear in the following decades during his daily morning stroll  through corporate headquarters, warmly greeting employees and perpetually asking: "Is it going to be a big day?" and "Is it big yet?"    
Expanding Big Ideas into New Ventures  
When it came to potential business ventures, he talked with Mrs. Hunt and developed a method with his team to figure out what made sense to try. 
"We won't go headlong into the storm," Mr. Hunt said. "We'll make sure our wipers are working. But, if we see a chance, we're going to take it."   
Some early 1990s ventures, like starting a flatbed division or expanding operations into Mexico, worked. Others did not. But every time, company leaders learned important lessons to keep the overall business growing.    
Continually thinking big and staying agile are fundamental to J.B. Hunt's mission: Creating the most efficient transportation network in North America. 
"Over the last 60 years, we are dedicated to excellence and dedicated to constantly evolving and changing in response to customer needs," said Sarthak Verma, senior vice president of international.    
This has played out in a number of ways through the decades. Some of the most significant happened in the 1980s and 1990s after the deregulation of the interstate trucking industry in the U.S.    
Before then, trucking companies had to apply for the authority to carry certain goods in a certain lane or geographic area at or around fixed prices, but the Motor Carrier Act of 1980 lifted many of these restrictions. 
Deregulation helped to spark rapid growth in J.B. Hunt's core highway truckload services throughout much of the 1980s. 
"We still had to do it right in terms of costs, treating employees and drivers right and customer service," Kirk Thompson, former J.B. Hunt President & CEO, wrote.1 However, the "hurdle of convincing the government to grant us the business was no longer there."  
"Now it was a matter of execution on fundamentals," Thompson said.
Accelerating our Mission
The fundamentals of efficient transportation come down to reducing wasted space and wasted time.
Post deregulation, J.B. Hunt pioneered innovations that helped on both fronts.   
For instance, when and where possible, J.B. Hunt moved from utilization of 48' (or shorter) trailers to more efficient 53' trailers, allowing the company to offer more space to its customers in the same shipment. The company looked for other efficiencies, too. J.B. Hunt business practices included regulation of maximum speed for company trucks and an emphasis on using newer equipment. This meant the company's fuel efficiency and maintenance costs were some of the best in the industry.  
J.B. Hunt also helped to pioneer a method of using multiple drivers per truck to lessen the time that trucks would sit idle. This method, called "slip seating," meant cutting down on the time trucks sat idle from days to hours, said Chief Sustainability Officer Craig Harper. It helped earn J.B. Hunt a reputation as the "king of utilization," he added.  
By the early 1990s, J.B. Hunt had 1.07 drivers for every truck, Nathan Smith, senior vice president of maintenance, said. 
Why? 
"Well, that driver is going to be off at times for vacation," Smith explained. "They're going to take a few days off here or there. They're going to be sick. They're going to have some medical issues that they need to deal with, and we need to have a driver who can most efficiently run that truck in their stead."  
As operational and technological innovations helped J.B. Hunt's core over-the-road business grow in the aftermath of deregulation, another big idea emerged.   
The Birth of Intermodal    
In the domestic transportation sector, the 1980s were a time of long-haul, cross-country trips as competition among trucking companies intensified after the Motor Carrier Act of 1980. California, especially, demanded a lot of capacity.
"We would send trucks to the West Coast with consumer products, food items and paper products, but then it was really difficult to get our trucks back out of the West Coast," said Darren Field, president of intermodal and executive vice president.   
One possible solution, Mr. Hunt and other business leaders devised, was to move some of that transnational freight off the highway and put it on rail instead. Mr. Hunt's thinking, as Field best understands it, was: "What can I do in order to eliminate some of this really expensive cost associated with putting all these trucks out on the West Coast for which we can't find loads to send back east? Maybe, the train could be a lower cost solution."   
Nick Hobbs, chief operating officer and president of contract services, adds: "He had a vision that 'If I don't do this, somebody else is going to do it, so I need to disrupt myself.'"     
Mr. Hunt and his team, which included former executive Paul Bergant, ran the numbers and talked the idea over with leaders from the Santa Fe Railway. They laid the tracks for the first major strategic alliance that would improve on previous intermodal arrangements by, in part, giving J.B. Hunt priority loading rights to ensure premium service for customers accustomed to the faster, but more expensive, highway transportation option.   
The strategic alliance led to Santa Fe Railway changing how they operated their intermodal terminals, Bergant said. 2 "We wanted to be on the terminal, not 15-to-20 miles away. We needed our own gate to go in and out."   
While running the numbers strongly indicated a J.B. Hunt-Santa Fe Railway alliance would be a successful one, there was still some risk involved.    
Field said: "I think the risk for J.B. Hunt, frankly, was we could have been seen as alienating truck drivers" who had been enjoying long hauls to California in a time when spending weeks out on the road was more common.   
But J.B. Hunt made sure drivers understood the benefits of additional shorter-haul trips as the railroad took over some of the long-haul transportation. 
"I think we did a good job of making sure our drivers understood that there was more than enough work to keep their incomes protected and really keep themselves working hard," Field said.   
By 1990, J.B. Hunt and the Santa Fe Railway had formed the first joint initiative between trucking and railroad companies.    
"What Mr. Hunt did within our model was nothing short of revolutionary," said John Roberts, J.B. Hunt president and CEO. "It went against the grain of the thinking in transportation that truckers and train guys don't work together. But it was better for the customer."   
Since then, J.B. Hunt has grown into one of the world's largest intermodal providers with North America's largest fleet of company-owned 53' intermodal containers. By putting long-haul freight on rail when it makes sense, J.B. Hunt has helped customers realize major savings — both financially and environmentally.     
By leveraging intermodal, which is 2.5 times more fuel efficient than over-the-road trucking, J.B. Hunt prevents millions of metric tons of carbon dioxide emissions from entering the atmosphere every year.   
In so many ways, J.B. Hunt intermodal has been a resounding success.  
But it never would have happened unless Mr. Hunt and other leaders dared to think big. Giving away long-haul trucking business to the railroads didn't always make the most profit in the short term, but J.B. Hunt executives saw the long-term benefit.  
"We were willing to trim our trucking fleet to give the customers what they needed, knowing it would offer the biggest return for us and our shareholders," Thompson wrote. 
That's the kind of "creative destruction" — a willingness to disrupt previous habits and business models to better serve customers — that J.B. Hunt has come to embrace again and again.  
J.B. Hunt Intermodal would set the stage for other big innovations in the transportation industry.
Among the most self-disrupting was the launch of Integrated Capacity Solutions.
It propelled us to a series of innovations we'll discuss in Part 2 of this blog, which explores additional 'Big Ideas' that keep J.B. Hunt moving forward.